Buy Property in Turkey to Acquire Turkish Citizenship
Turkey is a safe haven for many people around the world whose countries suffer from difficult economic and political conditions. One of the most important reasons is the system for obtaining Turkish citizenship. Also it is less complicated than most other countries. There are many ways to obtain Turkish citizenship. The most important  one is  obtain Turkish citizenship by buying a property.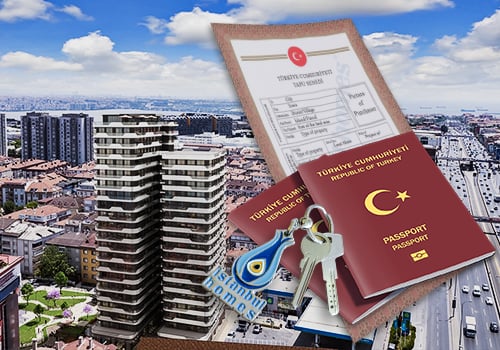 Despite the great facilities provided by the Turkish government to businessmen and foreign investors. There are special conditions if the goal of these investments is to obtain citizenship.
In order to obtain citizenship, some people tend to buy property in Turkey for several reasons. The most important one is relocation and stability in Turkey. It is considered a suitable place, especially for Arabs who suffer from abuse, injustice and difficult security conditions. Due to the and development that Turkey contains.
The religious aspect
 It is a great motivation for Arabs wishing to move from their countries to choose stability in Turkey. Islam is the strongest and most common in Turkey.
Turkey future.                                                                                                                                                                                   
Indicators see strong economic growth in Turkey during the next ten years. It makes buying a property in Turkey attractive even without obtaining citizenship. There are many conditions for obtaining Turkish citizenship in this way.
The most important of which are the value of the property . The person's personal history in terms of ethics and following the laws.                finally the duration of keeping the property. In this article, we will first mention why you should buy a property in Turkey specifically. And what are the conditions for obtaining Turkish citizenship by buying a property in Turkey. And finally, the advantages enjoyed by those who hold Turkish citizenship.
Why you should buy property in Turkey?
Economically, Turkey is one of the leading countries in agricultural products, textiles and cars. The plans in place herald a very strong future economically. Turkey aims to become one of the ten most powerful economic countries. The economic crisis in 2018 led to the depreciation of the Turkish lira. It is excellent for traders from abroad to invest heavily in an emerging market with a strong future.
This drop attract many Arab families to move and live in Turkey. The value of real estate here is very impressive compared to other countries. This contributed to making the government provide many facilities for foreign investors to revive and strengthen the country's economy.                                                                                                                                                                                                                                                                          We must mention that there is a high possibility that Turkey will join the European Union countries at any time. This will makes obtaining Turkish citizenship a very wonderful thing. In addition to the material benefits  there are future benefits that may be much greater if Turkey joins the European Union.
prices and investment
The cost of real estate in Turkey is considered low to an excellent degree. It allowing most families who want to live here to own their own homes.   We see this strongly among people from Iraq and Yemen here. Most of them moved their families for security reasons and to obtain a safe labor market.
They tend to buy property in turkey in order to obtain Turkish citizenship has become very popular among them. This is due to its multiple benefits. In addition to obtaining Turkish citizenship, it is a safe place to live.
Finally, the labor market in Turkey is very attractive for businessmen.  Which urged them to move and bring their families to Turkey as well.  There are many areas that can be invested here, such as agriculture, food products, clothing, or even the automobile industry.                                 This great variation is one of the most prominent Things that the Turkish economy enjoys.                                                                                      Many of them take advantage of their presence here and buy property in Turkey to obtain Turkish citizenship.
Socially
 Turkey is the most suitable place for most Arabs, for several reasons, including language and religion. Where there are many convergent words between Arabic and Turkish, and there are many Turks who can speak Arabic. And the religious aspect, where Islam still maintains its value among the people here in Turkey. We must also mention some other factors, such as freedom of thought here. Unlike many Arab countries. Climate is one of the factors where Turkey generally enjoys a wonderful climate in most seasons. The Turkish people are also distinguished by the fact that they are easier to deal with. The Turkish government also welcomes foreigners on its lands.
Conditions for obtaining Turkish citizenship by buying property
buy property in Turkey to obtain citizenship is very common Among those wishing to live in Turkey. They can buy a house and use it to obtain Turkish citizenship. The government has set basic conditions for obtaining citizenship by owning a property.
First, the property value must not be less than $250,000. That there is no kinship between the seller and the buyer in order to ensure that there is no manipulation. The presence of a government evaluation of the price of the property. Obtaining the title deed and it must be notarized.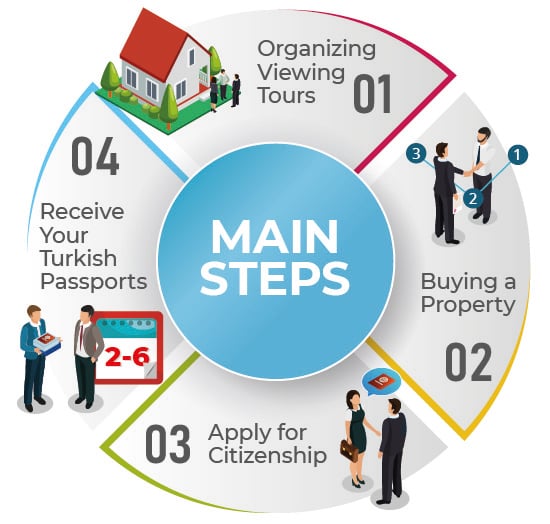 A receipt for the transfer of the amount.  It must be more than 250,000 dollars from the buyer's account to the owner directly. Writing the reason for the transfer to buy a property or a house for example. The property is not pawned. If the property was purchased in installments, all installments must be paid before applying for Turkish citizenship.
Finally, it is the condition not to sell the property for at least 3 years. This to ensure that there is no manipulation. It is also normal for the government to verify a person's criminal record. This to make sure that he does not pose any threat to the state's economy or public security.
Extra information
There is no condition that determines the type of property invested in. Person can invest in any type of real estate such as commercial and residential, land and others.
It is possible to purchase in comfortable installments with an application for Turkish citizenship after completing the payment of installments.
Advantages of obtaining Turkish citizenship
The Turkish economy is one of the 20 most powerful economies in the world. This brings many benefits to its citizens. The Turkish passport is one of the 50 most powerful passports in the world. The passport allows its holders to travel to 77 countries without a visa. Turkish passport  adds greater ease to obtaining a visa for 26 Schengen countries. 
Turkish passport provides free medical care and semi-free education at world-class universities based on the person's academic level. The right to vote in all elections, as there are no first and second-class citizens like other countries. Greater facilities in investments and ownership with the possibility of obtaining loans and so on.
Benefit from the retirement pension plan as a Turkish citizen. Who obtains Turkish passport and has children under 18 years can apply to them for Turkish citizenship.
Turkey communications
The economic growth and religious rapprochement between Turkey and most of the Arab countries made many Arabs choose to  live here. Do not forget Turkey's geographical location.
Turkey location  is one of the most important reasons for the strength of the Turkish economy. Turkey relies heavily on tourism as a source of annual income for the country. These reasons made people who move to live in Turkey want to settle down and obtain citizenship. Perhaps one of the most prominent of these ways is real estate investment. 
Turkey allows any foreigner who buys a property worth $250,000 or more to apply for Turkish citizenship. The government does not require the purchase of a certain type of real estate. Whether it is commercial or residential, and even agricultural land or any other type of real estate. Iraqis come first in terms of obtaining Turkish citizenship through real estate investment. 
In general the Iranians are the most benefited from this law. We also note the intellectual and religious rapprochement between these countries, as Turkey attracts them because of its different culture.
Turkey composed of the development and mixing of European cultures and adheres to the Islamic religion. This is difficult to find in any other countries. In addition to the facilities provided by the Turkish government to foreign people and specially investors.